PinPointe™ FootLaser™ — The only laser with clinically proven efficacy and FDA clearance for onychomycosis.
In the videos below, you may watch they quote a price of $1200. This an old pricing system and today the costs are [often] less then $500 for all 3 treatments. During your evaluation, Dr. Rogers will evaluate the presentation and provide a price based on your specific needs.
PinPointe FootLaser is the first laser scientifically designed to promote clear nail in patients who suffer from unsightly nail fungus. Clinically proven, this is without the harmful side effects of oral medications, and typically takes only 30-minutes to perform.
Stop suffering the pain and embarrassment of unsightly nail fungus. PinPointe FootLaser is the easy and convenient treatment that helps turn your discolored and disfigured nails into clearer, healthier looking nails.
Give your feet something to smile about from toe to toe. Treat them to the PinPointe FootLaser and see how exciting it feels to look so good.
Videos About The Fungal Laser System
"ABC Cutting Edge Nail Cure"

"The Doctors on Laser Toenail Fungus Removal"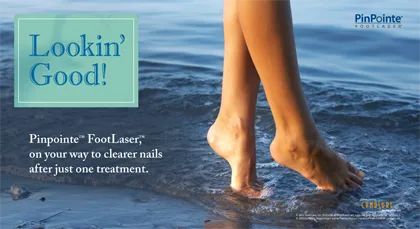 For more information please visit the PinPointe FootLaser website.